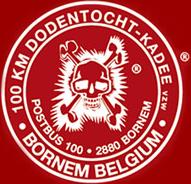 Dodentocht 2011 – 12 augustus: Het zal twijfelen zijn tot het allerlaatste moment om mee te doen… Geen vrienden of kennissen dit jaar en ik weet uit ervaring dat het dat extra lastig maakt. Maar de dodentocht is toch een of ander vreemd virus dat begin augustus sluimerend naar boven komt en gaandeweg half augustus harder toeslaat. Het is nu nog exact 5 dagen en die korte tijd kan de twijfelachtige stemming eens te meer doen omslaan.

Absoluut bepalende factor voor mij blijft het weer. Jammer dat er dit jaar geen ananassen aan de meet zijn, maar een gladiool is makkelijker weg te schenken voor moederdag moet je dan maar denken 😉
Update 10 augustus 2011: ondertussen ben ik me vandaag toch gaan inschrijven in Bornem. Mijn startnummer is 1584 (oorspronkelijk zou ik ergens in bij de 7000-reeks vallen, maar blijkbaar ben ik vervanger voor een afvaller…). Het wordt een solo-tocht zonder voorbereiding. Ik stel mezelf geen bepaald doel voor ogen. Ik doe gewoon mee omdat het dodentochtvirus mij niet loslaat en voor de sfeer. Afzien is hoe dan ook een zekerheid. Pain is temporary, glory is forever.
Galdiolen aan de finish, herinner u de klassieker van Urbanus!
http://www.youtube.com/watch?v=lPoYq6J57q4
Dodentocht vervangt ananas door gladiolen (De Standaard, 5 augustus 2011)