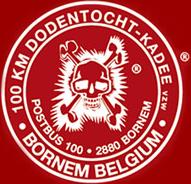 Het is exact een maand voor de volgende dodentocht en ik ben nog maar net klaar met mijn verslag van de dodentocht 2009 (vergezeld van een paar foto's).
Dit jaar heb ik geen voorinschrijving, maar de drang is groot om toch weer deel te nemen, al was het maar om mijn medaille van vorig jaar in ontvangst te nemen. Als ik hen met de grote mond mag geloven, zijn er mogelijks toch weer een paar hoogmoedigen die de tocht mee gaan aanvatten ;-). To be continued or not?
Succes aan zij die al aan het trainen zijn, ook succes aan zij die niet trainen (incl. mezelf…). Het wandelparcours van 2010 staat trouwens al online.
Update: ondertussen heb ik een nieuwe stappenteller (Omron Walking Style II) en nieuwe schoenen gekocht en is bijna geen excuus meer goed genoeg om te verzaken aan een volgende dodentocht-deelname. Ik ben 10 km gaan wandelen om de nieuwe schoenen in te lopen, maar dat is me vrij slecht bekomen: 2 blaren. Deze kunnen ook het resultaat geweest zijn van nog niet helemaal genezen hielen van een ongelukkig voorval met geklede schoenen die nog niet waren ingelopen een aantal weken terug. Gelukkig kan ik nog steeds terugvallen op mijn schoenen van vorig jaar. Vanaf volgende week beginnen we weer aan de Kampferspirituskuur om zo de voetzolen aan te sterken. Baat het niet, dan schaadt het niet.
Ondertussen heb ik een hele reeks sportwinkels afgeschuimd in de hoop een goeie heuptas te vinden. Maar wat dacht je: nergens iets kunnen vinden. Sports Direct, Decathlon, A.S. Adventure, … Blijkbaar kan je deze dingen alleen online bestellen en ik had het toch graag even uitgeprobeerd voor ik een definitieve keuze maakte.